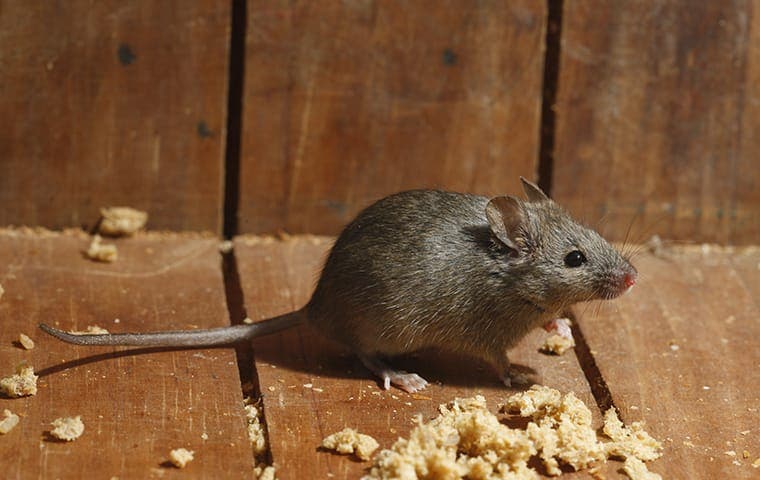 Las Vegas is not only one of the most popular tourist attractions in the U.S., playing host to world-class entertainment, casinos, and never-ending nightlife. Mice also call this sybaritic city home, much to the chagrin of its residents, who aren't just in town for a long weekend of fun.
Fortunately, Kiwi Pest Control provides the most advanced pest control in Las Vegas to eliminate mice and other rodents in and around your property. Our highly skilled and experienced team only uses the latest products and procedures to resolve your pest issues quickly. Continue reading to find out why partnering with a professional pest management company is the best way to get rid of mice.
Spotting One Mouse In Your House Usually Means Many More
Since mice in Las Vegas are social creatures, once you've spotted one, many more may be hiding in dark areas of your house. Mice can live up to two years and even longer. During that time, one mouse can birth a litter of mice up to seven times annually. And with five to seven babies born at a time, it's easy to see how a mice infestation can occur. Therefore, contact a qualified pest control company immediately if you see one mouse. 
Why Mice In Your Home Is A Major Health Risk
Just because mice don't physically attack people doesn't mean they're not dangerous. Rodents have been the cause of hundreds of electrical fires in the U.S. each year, from gnawing through utility wiring. They've also cost homeowners thousands of dollars in damaged furniture and other personal possessions and can transmit dangerous diseases, such as:
Lymphocytic choriomeningitis (LCMV)
Leptospirosis
Hantavirus
Tularemia
Giardia
The bad news is that you don't have to contact mice excrement directly to get sick. Their urine and feces produce airborne particles that can travel through the vents in your home. However, the good news is that making one call to a reputable pest specialist can help keep mice away from your residence consistently, maintaining your family's health.
How And Why Mice Find Their Way Into Your Home
Every day, mice go on a quest for the three essentials they need for survival: food, water, and shelter. And unfortunately, your residence may be their next destination. And can you blame them? Your warm and cozy home is full of delightful accouterments that any person or pest would find irresistible. Most homes contain plenty of soft materials mice use to nest, like paper, fiberglass, and various fabrics. Most importantly, you have an assortment of delicious food fully stocked in your kitchen for them to nibble on.
It's not difficult for mice to access the inside of your home once the aroma of your leftover food draws them. These rodents can squeeze into your home's foundation's tiniest opening or hole. They can also gain access through open doors or windows, gaps in the ceiling, or sewer systems.
If you suspect a mice problem, don't hesitate to contact your local pest elimination company to schedule a comprehensive property inspection.
The Best Way To Get Rid Of Mice In Your Home For Good
The best pest control for mice won't be found on any do-it-yourself (D.I.Y.) guru's social media page. Only professional pest control specialists have the background, resources, and knowledge to accurately tackle your most challenging pest dilemma. Don't trust unproven at-home remedies to obliterate an infestation when your family's health and safety are on the line.
Kiwi Pest Control has built our reputation on integrity, honest communication, and providing a premium service that our Las Vegas residents can trust. We don't just resolve pest problems; we educate homeowners on pest prevention, so infestations don't occur in the future. Our team is well-equipped to handle all your pest management needs, including eliminating different types of mice. Let us get you back on the road to living a peaceful, pest-free existence. Get in touch with us today to schedule your service.